What's Available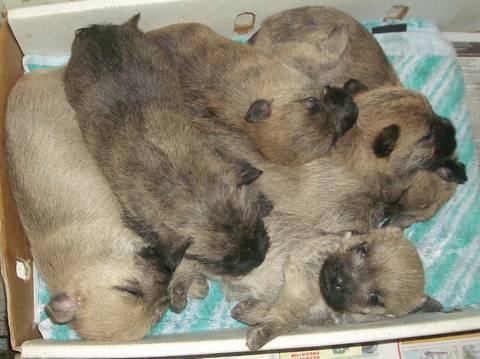 "Winter Cairn Litter Snuggling Up"
Please note:- Delivery by air is available to most main airports throughout Australia
For Sale At Present
I am happy to fly my puppies /dogs from Armidale airport to most localities in Australia, they are now spread from Cairns in north Qld to Victoria, South Australia, Western Australia and Tasmania.
Cairn Terrier puppies available regularly
What's Available
Cairns - Baby Puppies sometimes & occasionally an older one may be available
Kelpies - Not at present
*********please note I don't sell Kelpies as pets*********
While emails are a wonderful way of passing information, I much prefer to speak personally with potential buyers so please feel free to call me.
As I prefer quality not quantity I only breed when I want something for myself and therefore, do not always have baby puppies available but am happy to put potential buyers on a waiting list. With "pet only" cairn terriers I am happy to pass the enquiry on to other reputable breeders if I have nothing in the pipeline to avoid long waiting times.
While I endeavour to breed healthy, sound, quality dogs, I appreciate that sometimes problems do occur and would like to be the first to hear as I may be able to sort it out for you. I am always available for advice and like to follow the progress of everything I breed throughout its life so like buyers to keep in touch. If you have any training difficulties please call before it's become a habit.
All are fed and housed carefully, vaccinated, registered, treated for both internal and external parasites and are well socialised with both people and other dogs. The kelpies are tattooed and where necessary the cairns are microchipped. The Cairn terriers are carefully vet checked for physical defects and general health and Bile Acid Tested to check liver function to ensure they are free of Portal Sytemic Shunts (a potentially fatal but very rare genetic disorder).